It's important that the ring you wear fits your finger perfectly
---
Our shops in Brighton, Eastbourne and Chichester offer professional ring resizing in our in-house workshops. Prices start from £35.
Ever wondered how we resize a ring?
---
Watch our beautifully filmed and narrated video demonstrating the different stages in resizing a ring
How much does a ring resize cost?
---
When it comes to pricing for bespoke ring resizing, no one price fits all. Our prices reflect the type and quantity of metal to be used with instant quotes given in-store and start at £35 for 9ct yellow gold.
We offer ring resizing for Platinum, Yellow Gold, White Gold, Silver and Palladium.
All prices include a full professional clean and polish, to bring back the original shine. White Gold prices also include Rhodium Plating.
How long does a resize take?
---
Turnaround times for ring resizing depends on the design of the ring and type of resizing but in most cases it can be from 1-14 days*
*Covid-19 is currently increasing waiting times but we hope to back to full speed very soon
How will my ring be resized?
---
Whether it's modern designer jewellery, a platinum diamond solitaire or an antique ring, our trained staff will be happy to advise you of the best option for resizing your rings.
For the majority of resizes we will cut the shank of the ring at the back, avoiding damaging any hallmarks or engraving whenever possible. For increasing the ring finger size, we will insert a section of matching metal, for example 9ct gold, platinum etc. and solder it into place. For decreasing the ring size, we will file or remove a section. The metals and solders used will be of the same metal / purity as the ring, and the finishing process will ensure that upon completion you will be unable to tell where the section has been added/removed.
Certain designs of ring may require alternative ring resizing methods, for example a plain or patterned solid band that needs minimal resizing may be more suitable to stretching/condensing using the appropriate machine in the workshop. An option for rings unsuitable for traditional resizing is to add ball shots or small plates to the inside of the band, this process decreases the ring finger size and can help prevent the head of the ring slipping round.
Our Brighton workshop has a laser welder which can join metals with a seam that is so smooth and clean minimal re-polishing is required making it ideal for delicate items. This machine is very technical and requires the goldsmith to have highly specialised knowledge to use it proficiently. Many complicated resizing jobs have been expertly finished using this technology.
It is important to note that each ring has its own unique character and so the way in which a ring is resized may vary from one ring to the next in order to provide the best service.
Learn More About Our Services...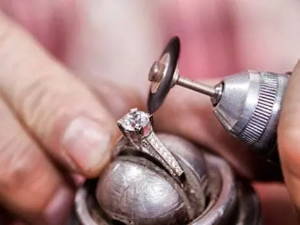 Information on all our aftercare services, from everyday repairs to re-designing.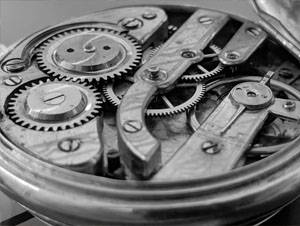 From quick batteries changes, repairs and servicing, find out more...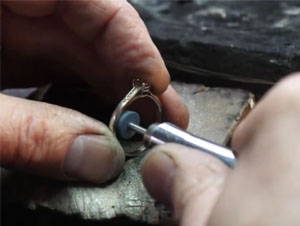 Cleaning & Rhodium Plating
Bringing your jewellery back to life with a professional clean, polish and rhodium plate