Lalique…The magic of a name, the genius of a creator. The characteristic contrast of clear and satin crystal, the imaginative sculpted shapes, patterns and richness of the figurative details all reflect Lalique's technical expertise and unique creativity.
Gold Arts in Brighton, Chichester and Eastbourne have been official stockists of Lalique for over 25 years. Discover more about the history of this remarkable brand.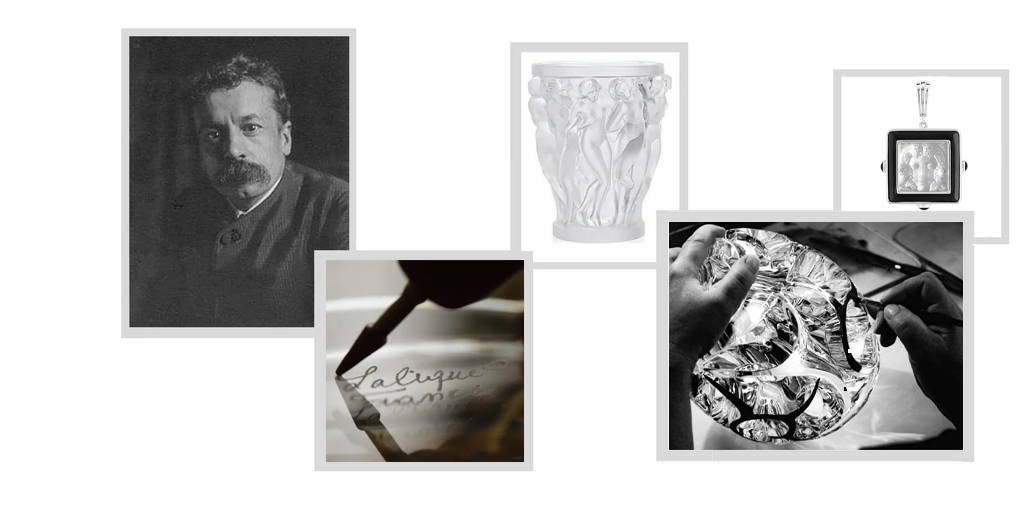 The flourish of the Lalique France signature on each piece evokes the history and mastery of its originator and is your guarantee of quality and authenticity.
René Lalique (1860-1945) was one of the most influential artists of the 19th and 20th Century. René Lalique is best known for his Art Nouveau Jewellery and Art Deco Crystal Sculptures.
He drew his inspiration from mythology and the natural world; a fascination with the female form, flowers, plants, birds and insects – his early works at international expositions won him worldwide acclaim and a prestigious clientele.
Always original, he studied ancient techniques and pioneered new ones to create works of art, first in jewellery and later in glass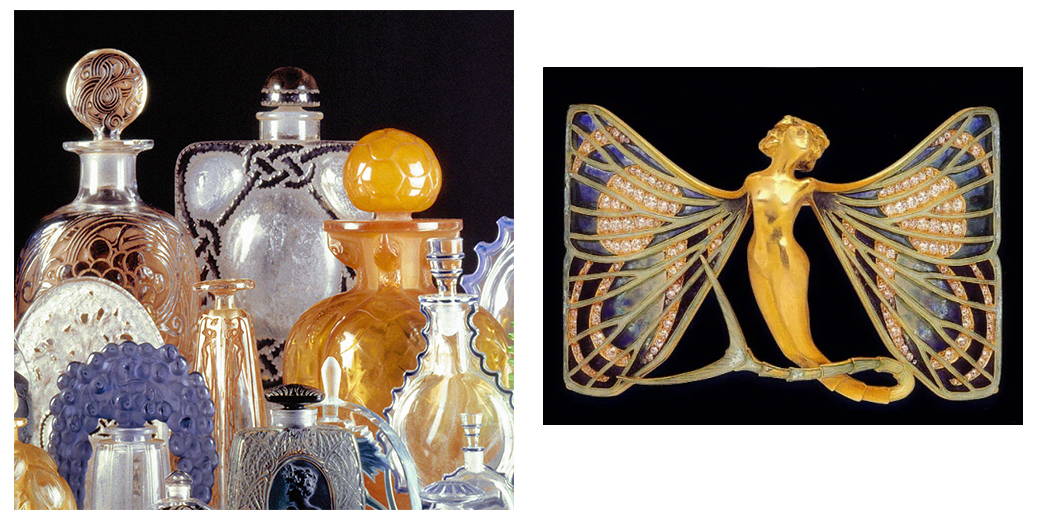 René Lalique's Early Career
René Jules Lalique was born in the Marne region of France in 1860. His mother recognised his creative talent from an early age and encouraged him into the jewellery making trade. In 1878 Lalique became the apprentice to noted Parisian Jeweller Louis Aucoc. He later moved to London to study at Sydenham School of Arts in Crystal Palace. He studied here for two years and gained influence from the growing arts and crafts movement. Lalique went on to open his own workshop in Paris in the 1890's and established himself as one of the most respected jewellers of the time and with a workforce of thirty people.
Lalique's Art Nouveau Jewellery
Art Nouveau jewellery was unlike other jewellery of the same period. Materials were used for their aesthetic rather than monetary value, with ancient crafting techniques re-explored as a reaction to the increasing mass-manufactured jewellery of the period. Semi-precious gemstones such as Opal, Chrysoberyl, Coral, Moonstone and enamelling techniques were used instead of more traditional gemstones such as diamonds and rubies.
Art nouveau motifs and themes embody a mythical fairy-tale world of the femme fatale and nymphs.  The flowing sinuous lines create sculptural forms, with nature always at the forefront.  
Lalique's iconic 'Femme Libelllule (dragonfly-woman) corsage ornament captures the iridescence of a dragonfly's wing and a sinister mystical female form. Created in 1882 it now resides in the Museum Calouste Gulbenkian
The masterful techniques, unusual materials and dramatic themes - Lalique's Art Nouveau jewellery is iconic, with examples adorning the most prestigious museums across the world. Lalique Jewellery was beloved by wealthy socialites, famous actresses and art loving collectors worldwide. He won many awards for his art and was widely respected across the jewellery and arts world.
Lalique Crystal - The Beginning of a New Chapter
René Lalique had accomplished so much in the realm of jewellery, and enamel techniques had led onto experiments with glass manufacture. His early artisan glass creations caught the attention of perfumier Coty, and a partnership began in 1907 where Lalique designed perfume bottles which were attractive and affordable for Coty's clientele.
By the 1920's Rene Lalique's glass found unrivalled success and he was overwhelmed with commissions, creating memorable patterns and motifs still used in the modern Lalique glass available at Gold Arts
René Lalique's original sketch and the flacon for Coty Cyclomen from 1909.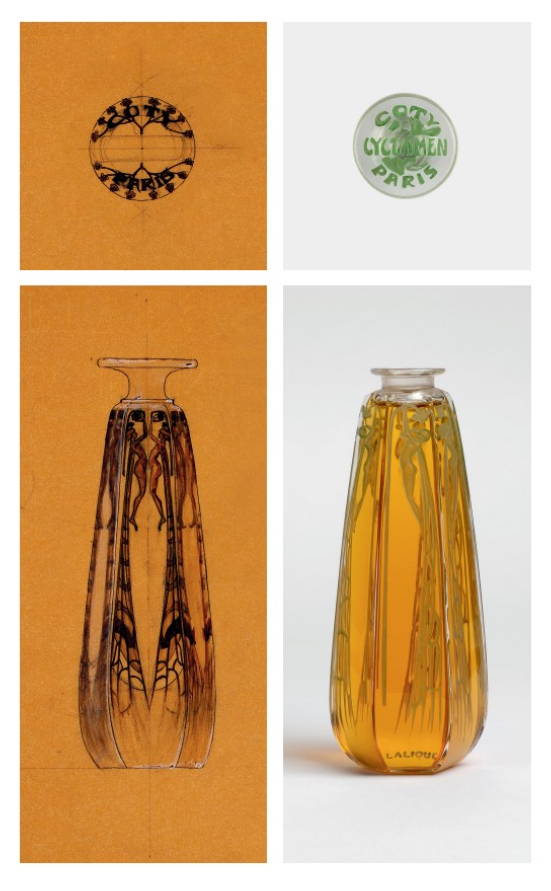 The Art Deco period is characterised by strong geometric shapes and symmetrical patterns. The simplicity of design was echoed in the modernity of the post war period and glamour of the roaring 20's and 30's. His style in this period was distinctly Art Deco with his recognisable motifs adorning the most luxurious hotels, ocean liners, the Orient Express and renowned architecture across the world - he symbolised modernity and excellence.

Today Lalique is still produced in Lalique's original factory in Wingen sur Moder, France which supplies the world's demand for their unique product. Rene Lalique's son Marc and later generations still influence the creative direction of the Lalique brand. The original artisan techniques have been passed on to each master glass-smith, so that every piece of Lalique Crystal produced today, is instantly recognisable in design and quality as 'Lalique'.
The factory at Wingen sur Moder celebrates 100 years (1922-2022)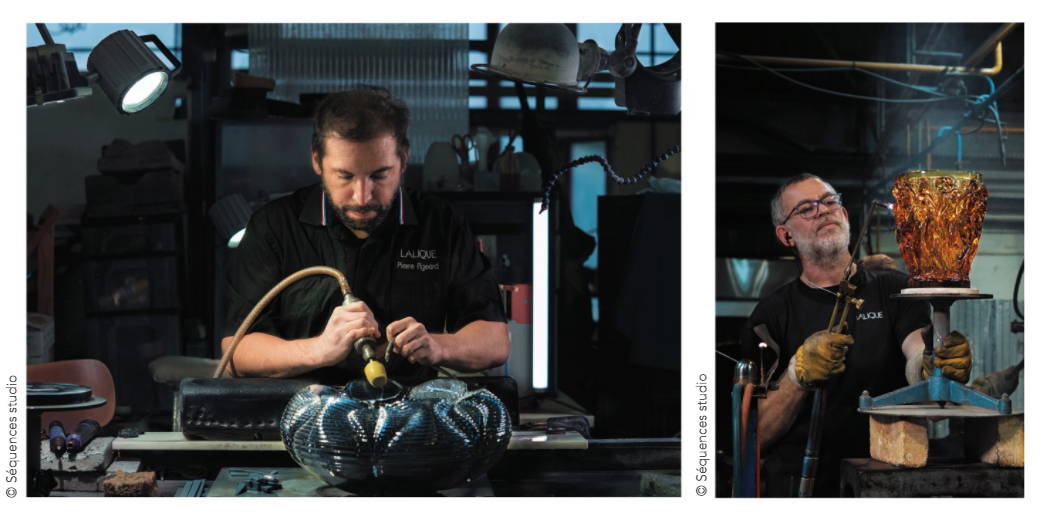 Collecting Lalique Crystal
To own a piece of Lalique is to understand the nature of the material, the cool heavy smoothness of the glass, the tactile undulating curves, the understated simplicity of the design, the purity of the crystal and the supreme execution of the finish.
Lalique is available at Gold Arts - shop in store or online for free postage
Lalique Crystal at Gold Arts
Our Lalique collections in our Brighton, Chichester and Eastbourne showrooms have a wealth of beautiful Lalique sculptures, vases, figurines, animals, bowls and object d'art, some of which do not appear on our website. We welcome special orders and with our catalogues and expertise can help you select perfect gifts and decorative art for your home.
Lalique Jewellery at Gold Arts
Modern Lalique jewellery embraces the tastes of modern jewellery connoisseurs with the rich heritage of iconic motifs. With collections for men and women, the Lalique jewellery in our Brighton, Chichester and Eastbourne showrooms has jewellery for everyday elegance.
---