The Story of Rene Lalique and His Enchanting Jewellery
Fascinated by the natural world, mythology and the female form, René Lalique's jewellery has a dreamlike quality, shimmering with unusual gemstones and artisan techniques. He epitomises Art Nouveau in his early work, weaving themes of feminine mystique and nature in iconic motifs, which presented in today's modern Lalique jewellery are still alluring and avant-garde.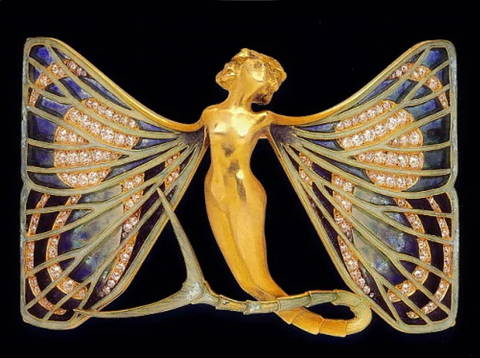 This blog reviews influence of René Lalique's jewellery both historically and within a modern context – exploring the use of materials and motifs in Lalique Jewellery.
The History of René Lalique (1860-1945)
René Lalique was undoubtedly one of the most beloved and recognised decorative artists of the 19th and 20th Century. His early works at international expositions won him worldwide acclaim and a prestigious clientele. Always original, he studied ancient techniques and pioneered new ones to create works of art, first in jewellery and later in glass.
René Lalique as the creator of Art Nouveau Jewellery
In the 1880's the elite of Paris, for whom Lalique was producing for, favoured the garland style jewellery. This featured large jewellery such as tiaras and brooches which mimicked sprays of foliage and floral bouquets, set with sparkling diamonds and costly gems. Not content with continuing this fashion, René Lalique reworked this style of jewellery crafting a magical fairy-tale style into his work. Heavily influenced by Greek mythology, stylised female forms and the darker more sinister realms of nature, he created masterpieces which to this day remain unrivalled.
Lalique's iconic 'Femme Libelllule (dragonfly-woman) created in 1882 and Hatpin with Wasps from 1899.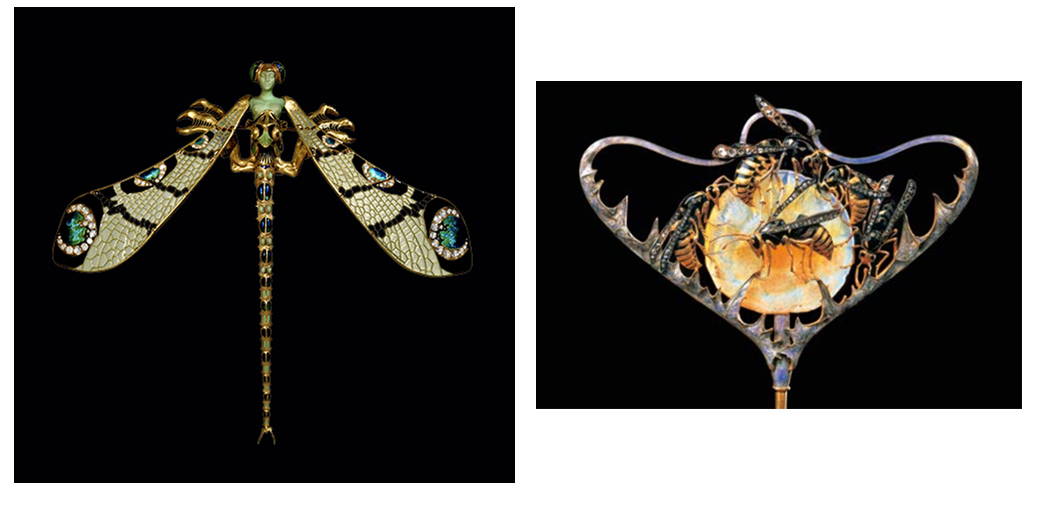 What materials did René Lalique use?
To create his miniature works of art, Lalique sought out unusual gemstones for his palette of natural colours and textures. He chose many beautiful semi-precious gemstones with powerful colours such as opal, chrysoprase, onyx and jade rather than high value gems like diamonds, sapphires and rubies. His use of gold combined with ivory, horn, mother-of-pearl gave sculptural textures. He revived ancient enamel and glass techniques to add realistic details to insects and plants in his jewellery.
Jeweller of the Rich and Famous
René Lalique had an enviable clientele, from wealthy international aristocrats and socialites to patrons of the arts and stars of the theatre.
In the mid 1890's the famous actress Sarah Bernhardt wore some of Lalique's stage jewellery. Bernhardt later introduced Lalique to a wealthy Portuguese art collector, Calouste Gulberkain, who commissioned 145 pieces from Lalique between 1895- 1912, many of which can be seen in his museum in Lisbon.
Sarah Bernhardt wearing a "lili crown" designed by René Lalique.
Why did René Lalique stop making jewellery?
Lalique's final jewellery show was in 1912, his work was being widely copied, and he had discovered a new passion...glass. The lead oxide glass termed as 'Crystal' became his passion, the translucency and ability to "sculpt light" gave rise to wealth of new designs. His focus shifted from jewellery to decorative objects and large architectural and interior designs.
Many of his designs for crystal are still produced using the same techniques and to the same exceptional standard. You can buy Lalique at Gold Arts in Brighton, Chichester and Eastbourne.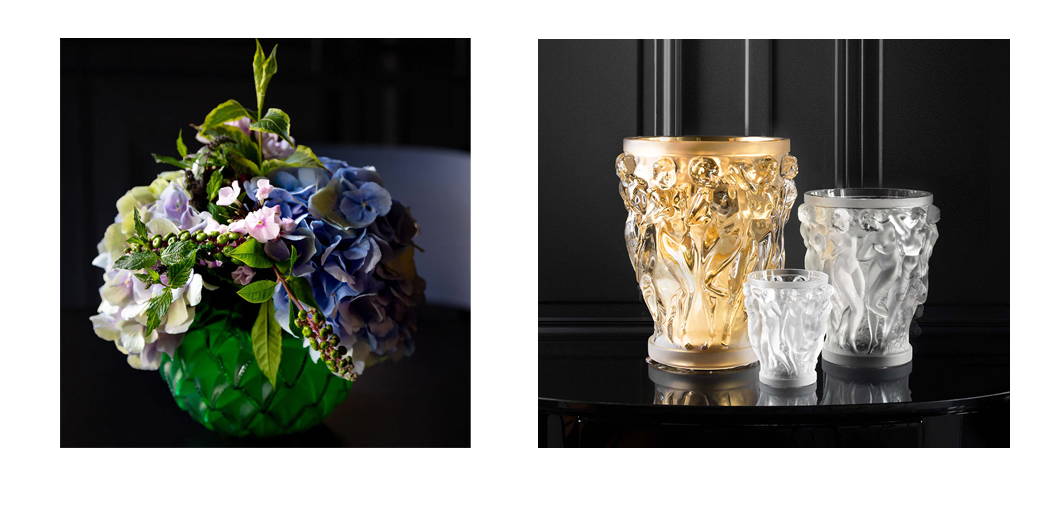 The Influence of René Lalique in Modern Jewellery
René Lalique: artist and innovator gave the world a new interpretation of natural motifs. His use of colour, texture and sculptural form has left a legacy of appreciation for jewellery as an art form, not merely an expression of wealth.
The Lalique brand draws on this rich heritage producing exquisite jewellery for a worldwide clientele. Formulated into collections that use his famous motifs from the Art Nouveau and Art Deco periods, Lalique jewellery is reworked and reinterpreted to suit the modern woman.
The Crystal used in modern Lalique jewellery is made using the same glass making techniques. The purity, exquisite colours and smooth tactile finish makes Lalique jewellery a joy to wear.
Lalique Jewellery at Gold Arts
---