7 Steps to Wedding Ring Heaven
The 7 key terms used for ordering a wedding ring explained
Don't be baffled by jargon - designing your own wedding ring at Gold Arts is simple.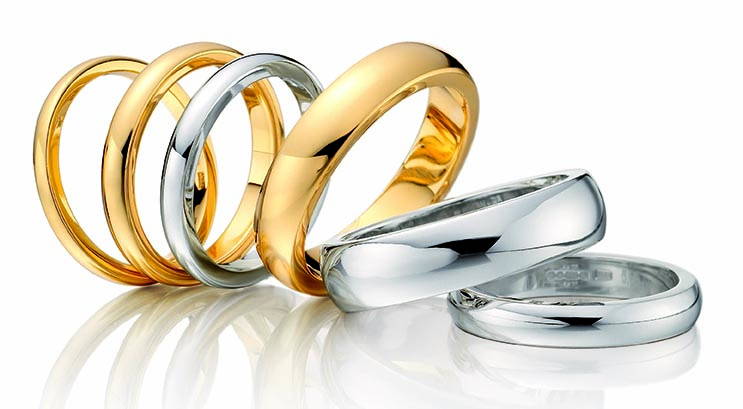 The profile is simply the shape and look of the ring. Some of the terms may not be familiar, but they all tend to be variations of flat or curved.
D-Shape is a traditional profile, which if you imagine the band being cut through the middle, its profile would look like a capital D. So it is flat on the inside and domed on the outside. The flat surface inside is great for gripping the finger, so a good choice if you find rings slipping off when your hands are cold or wet.
The other basic shape is Court. Court just means rounded, a Traditional Court looks very similar to a D-shape on the outside, but on the inside it is also curved. Its domed, smooth, tactile feel helps it to slip onto your finger easier and especially in men's wider bands, can feel much more comfortable. With this knowledge, it's easy to understand the other terms: Flat Court – flat on the outside, rounded on the inside; Slight Court – less rounded, more oval in shape etc.

Width needs little explanation and is usually anything from 2mm up to 8mm. All the profiles should be available in all widths, with ladies often choosing a matching width to their engagement ring, or slightly larger, so 2mm up to 5mm is an average.
Men tend to prefer a wider band, although hand size is a determining factor as to what looks right and proportional. We find that 4-6mm are the most popular, but we also sell 3mm-8mm.
Often termed as light, medium or heavy, the Depth or Weight of the ring is a determining factor in price. A heavy weight ring will have a chunkier feel than a light weight, but the profile and width should remain the same, so you may not notice the difference once the ring is on your finger, but the price difference may influence your choice, as the heavier ring will obviously be more expensive. In some profiles you may notice the difference in depth more than others.
It is worth bearing in mind that different manufacturers have their own guidelines for depth, so what one calls heavy another may call medium. 
Metal choice is a personal preference, but considerations include: matching with an engagement ring, or other jewellery/watches you wear everyday; how hardwearing it needs to be and what your budget is.
See our Blog for more details about the benefits of the different precious metals . How to Choose the Precious Metal of Your Wedding Ring 
Briefly though, Gold comes in a choice of yellow, white or rose colour and in 9ct or 18ct. Special orders can be made for 14ct and 22ct. If you're looking for a white metal then Platinum and Palladium are wonderful luxury metals with unique properties different to gold.
At Gold Arts we do not recommend wedding rings of non-precious metals, as these 'fashion' bands do not stand the test of time, as many cannot be resized if in later life your fingers change size and repair work is difficult if not impossible.
A precious metal carries a UK Hallmark, which is your guarantee that the ring has been tested and conforms to the exact percentages of purity stated.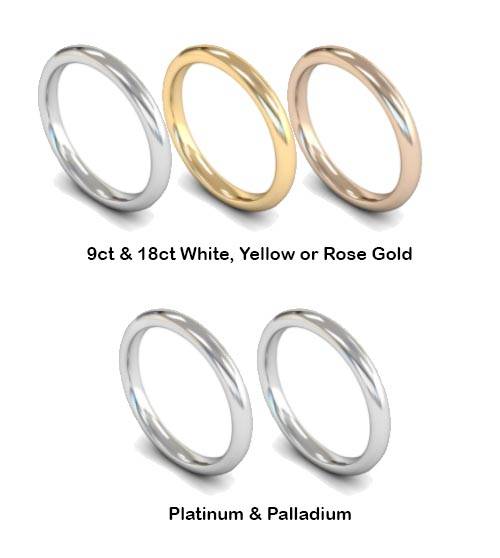 Finger size is perhaps most important of all. A professional jeweller can measure your finger, and gauge the correct size for the type of ring you require. For example, an 8mm band may need to be a little bigger than a 2mm as more of your finger will be covered. The shape of your hand will also affect the comfort of the fit, and people's hands do vary throughout the day and change with varying temperatures.
Precious metals bands are easy to adjust, so if you realise after the wedding that the ring is too big or small, we can easily resize, which is a service we would not charge for and can do in our workshop.
If your wedding ring is to be worn next to an engagement ring, then the shape is something you may want to consider, so the two sit perfectly together.
Shaped-to-fit wedding rings are hand made in our workshop, using your original ring as a guide. This is ideal for twists or large solitaires and cluster designs.
You may decide you want an exact fit, or perhaps just a gentle wave or wishbone design.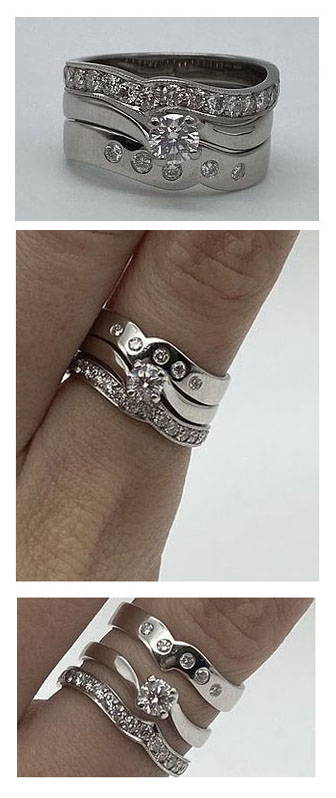 Choosing the finish of your ring, can add a little personalisation and be quite literally the 'finishing touch'.
Our rings come as a standard high shine / mirror finish, however you may prefer a matt or satin finish, which we are happy to offer free of charge upon request.
Finishes can include more elaborate patterning, such as hammered effect, grooves or milled edge to mention a few. Alternatively 2-tone bands, such as yellow and white gold can be effective.
Engraving a personal message or date inside of the ring is another popular choice to add meaning.
Whatever finish you prefer, our extensive list of suppliers and in-house workshop can please all tastes.

Understanding the 7 key terms gives you the knowledge to understand the basics so the ring can be made.
There is a world of ideas and inspiration out there so if you spot something on Instagram or Pinterest you like, simply show us and we can grab design elements to create something unique for you.
Wedding Rings can be of whatever style you choose, and an eternity style diamond or gem-set ring can really compliment a diamond engagement ring. Many of our eternity rings are ready to buy, but we can also add a single diamond to your wedding ring, or create a design with multiple diamonds. We select and set the most beautiful diamonds in our workshops to add sparkle to your big day.
Learn More About Our Services...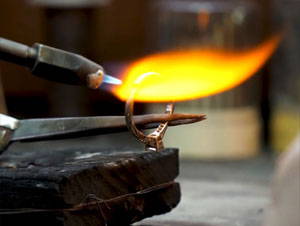 Information on all our aftercare services, from everyday repairs to re-designing.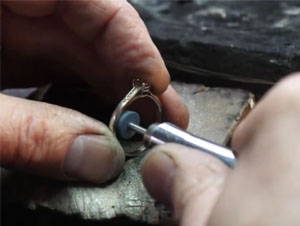 Cleaning & Rhodium Plating
Bringing your jewellery back to life with a professional clean, polish and rhodium plate
---