What you need to know about Hallmarking.
Hallmarking is the oldest from of consumer protection, dating back nearly 700 years! It is your guarantee that you are buying a genuine precious metal item. Find out more about Hallmarking in this 'all you need to know' guide.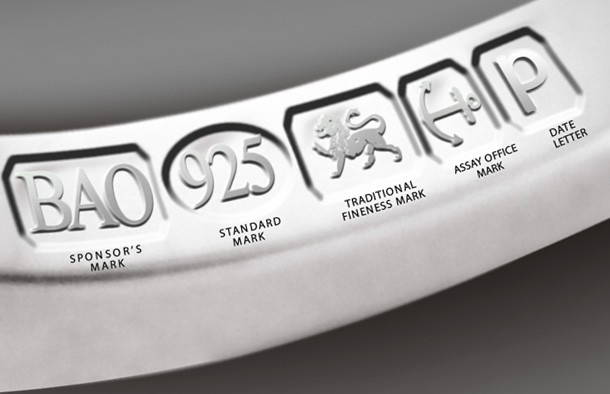 Image courtesy of Birmingham Assay Office

A hallmark is a series of symbols, which you will find on all items of jewellery and precious metal items, of either gold, silver, platinum or palladium. It is a legal requirement and is regulated by the government, the British Hallmarking Council and the UK Assay Offices.
When the 1973 Hallmarking Act was introduced, this meant that all goods made from precious metal, must be hallmarked to accurately determine the purity of the metal before they could be sold in the UK.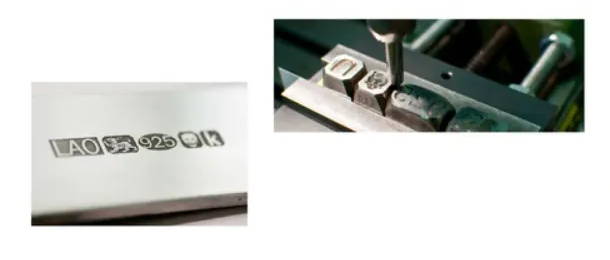 A hallmark is a government seal of approval which is stamped onto these precious metals to certify the quality of the metal. This process is known as 'assaying' (testing) and can only be carried out by a UK Government Assay Office and a hallmark is only granted if the item conforms to the legal standards.  
It is a criminal offence to misrepresent the metal or quality of precious metals in the UK or to counterfeit, alter, remove or deface a hallmark.
When did Hallmarking Begin?
Hallmarking began in 1327 in London where the first assay office was opened. More assay offices opened across Britain to accommodate demand, each with a unique mark. The laws around hallmarking have changed over the last 700 years, but many of the regulations we currently abide by were set out in the 1973 Hallmarking Act.
Hallmarking protects both merchants and consumers of precious metals in all its forms and is one of the oldest methods of consumer protection. It is impossible to know the quality of a metal simply by looking at it so the hallmarking process is crucial in ensuring industry wide quality is adhered to and honest trading takes place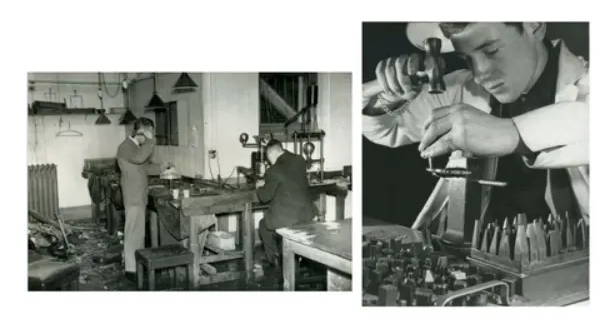 Nowadays there are only four working Assay Offices in Britain, located in London, Birmingham, Sheffield and Edinburgh. On antique pieces you may find the hallmarks of Chester, Exeter, Glasgow, Newcastle, Norwich and York.
What Does a Hallmark Look Like?
A Hallmark must consists of 3 compulsory marks, commonly remembered as the "who, what and where"
WHO - The Sponsor's mark (or the makers mark)
This is 'who' made it. Each company must have a registered mark, usually consisting of the makers or business' initials within a shield shape. When an item is sent to be hallmarked, it will the registered mark of the company that submitted the item for hallmarking.
WHAT - The Fineness mark
This is 'what' it is made from. This part of the hallmark tells you both the type and quality of the metal. The fineness or purity of the metal is expressed in millesimal form (parts per 1000), so silver with purity of 92.5% will be written as 925. Gold with a 75% purity (18ct) will be stamped 750. The shape the number is in will tell you the type of metal, oval for silver, chamfered rectangle for gold and a pentagon for platinum.  
WHERE - The Assay Office mark
This mark tells you 'where' the item was tested and hallmarked. There are currently four Assay Offices in the UK, located in London, Birmingham, Sheffield and Edinburgh. You may see other assay office marks on antique items.
Optional and Commemorative Hallmarks
Some elements of a hallmark are optional, which some jewellers like to include for historical or decorative purposes. The Traditional Finess Mark, which tells you the metal type is a depiction of either a lion (silver), crown (gold) or orb (platinum).
The Date Mark, was compulsory until 1998, but is now optional. It is a letter of the alphabet in a specific font, which denotes the year that the item was hallmarked.
The British Hallmarking Council will also approve Commemorative Marks for very special occasions. The most recent is the Queen's Platinum Jubilee celebrating 70 years on the throne. The design of the orb with ERII 70 engraved is an optional mark for the year of 2022. Read more about this hallmark and watch a video of its production by the London Assay Office here.

Image courtesy of The British hallmarking Council / Sheffield Assay Office.

How are Hallmarks Decided?
Throughout history methods have been developed to determine if something is real gold and avoid being duped. 2000 years ago, the method was gold cupellation. Touch Testing dates from 500BC where the item is lightly rubbed against basonite leaving a smear of the metal. Chemicals are then applied and depending on the reaction the fineness of the metal is determined.
Traditional methods are both a long and destructive process, however modern assaying uses X-ray Fluorescence Spectroscopy (XRF) which can accurately determine the fineness of metal in under 30 seconds.
How are Hallmarks Applied?
The way in which a hallmark is applied will depend on the nature of the item and the what the jeweller would like. If requested, goods can be hand struck, with the help of a hand operated hydraulic press to impress the mark deep into the metal. Today it is increasingly common that a hallmark will be imprinted by the use of laser technology. Laser marking is best suited to delicate items which may feature more precious stones or more complex designs or which are hollow and would not withstand a traditional punch mark by hand.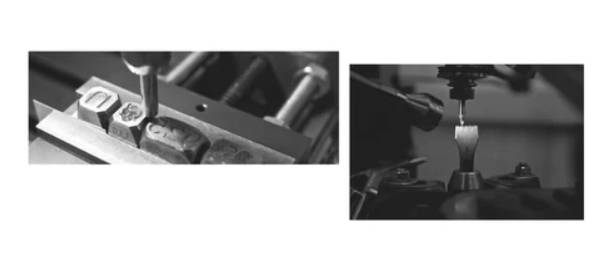 Are There Any Exceptions?
Yes! Whilst it is a criminal offence not to hallmark items made from precious metal it excludes very small items which fall under a certain gram weight. No hallmark is necessary for gold under 1 gram, platinum or palladium under 0.5 gram or silver under 7.78 gram. This means that you may not find a hallmark on smaller pieces of jewellery such as small stud earrings.
Vintage and Antique items may not always have a hallmark depending on the laws at the time it was made. You also may not find a hallmark on your own heirloom jewellery as repairs and daily wear can sometimes erase or obscure the hallmark.
Blog: The Platinum Jubilee Hallmark 2022

In this glorious Platinum Jubilee year, you can add a special commemorative hallmark to your jewellery, forever adding a touch of history to your own story.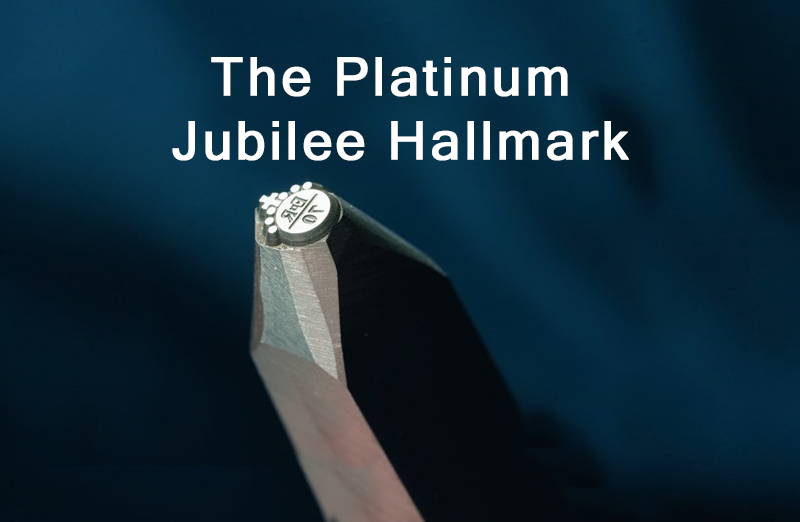 The creation of something that is completely unique to you is an affordable reality at Gold Arts. You can discuss your ideas and be part of the design making process, selecting your choice of metal and choosing from a handpicked selection of gemstones.
Find out more about our in house design service and goldsmith's workshop where we design and create unique jewellery for you.
---