Ultimate Guide to Trilogy Rings
What is a Trilogy Ring and how to design one? Everything you need to know about choosing the right Trilogy Engagement ring for you.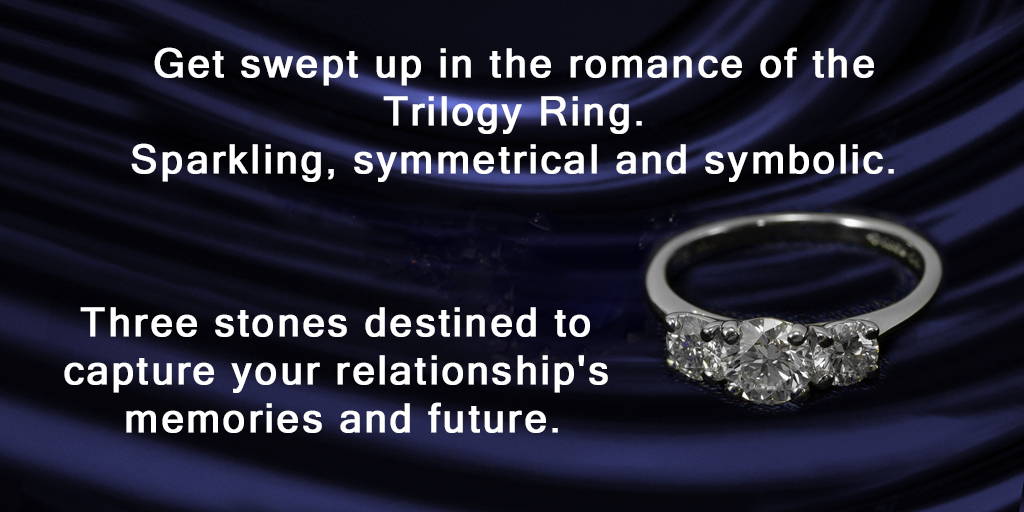 Sometimes called a 3-stone ring or a trinity ring, the Trilogy Ring features 3 gemstones in a row on the head of the ring. The gems may all be the same size or with the central stone a little larger. They can be all diamonds, or other colourful gemstones or a mix of both. It is a very versatile design, with lots of options for personalisation.
What does a Trilogy Ring symbolise?
A Trilogy Ring is said to symbolise the past, present and future of your relationship. Meaningful and romantic, they are a popular choice for couples, whether for engagement, anniversary or to mark a special event in your relationship.
Are Trilogy Rings just for Engagement rings?
Trilogy rings are suitable for all types of occasions. They make wonderful engagement rings, because of the romantic symbolism, they also make perfect rings to signify a special relationship at other memorable times, including anniversaries, the birth of a child or the beginning of a new stage in your relationship. The trilogy ring is a good alternative to an Eternity Ring. When combined with sapphires, emeralds, rubies and colourful gemstones, they make fabulous dress and cocktail rings.
Do Trilogy Rings just use Diamonds?
Absolutely not! The trilogy design is highly versatile and when used with coloured gemstones, creates fabulous dress jewellery. It is also a way to save a little money on your design, as a large centre coloured gemstone like a sapphire or aquamarine is significantly cheaper than a diamond of the same size. It also adds flair and personality to a ring to choose your favourite colour, or birthstone.
What Cut of Diamond is Best for a Trilogy Ring?
You can use any cut or shape of diamond you like most. Some of the most striking trilogy designs, combine round and fancy cut diamonds. You may choose the fancy cut to take centre stage with round brilliants on the sides, or the reverse!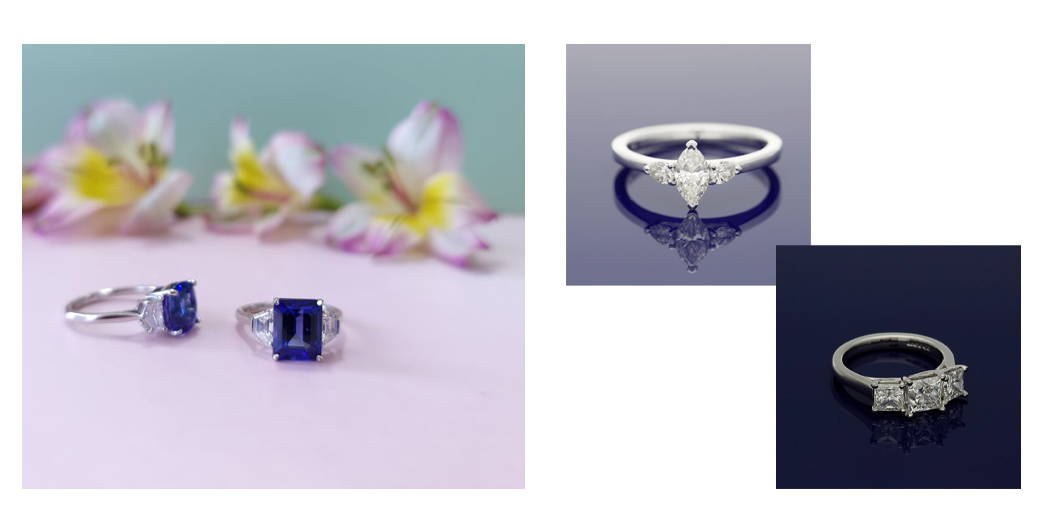 Mirrored pairs of fancy cuts, such as half-moon shapes, Trilliants, Trapezoids or Cadillac diamonds make fantastic side stones to complement the central stone. They give a pleasing symmetrical tapered shape, with is a very flattering shape of ring wear, which also lends itself perfectly to coloured gemstone centre stones.
What is a Fancy Cut Diamond?
Add some flair with a fancy cut – read our quick guide and find out more about Fancy Cut Diamonds in our blog
How to Wear a Trilogy Ring
If it's an engagement ring, then usually you wear it on the fourth finger of your left hand, although this depends on your culture's traditions. For non-wedding jewellery then think about what other jewellery you wear and what occasion it is for, as it suits most fingers, although a design with stones generally is unsuitable for thumbs and little fingers as the claws can catch more easily and gems can chip.
What Wedding Band goes with a Trilogy Ring?
The first thing to check when choosing the right wedding band for your trilogy engagement ring, is if it is a 'wed-fit' design. Wed-fit means the gems are set in a straight line or raised slightly so another rings will sit flush together.  
A wed-fit trilogy engagement ring is easy to pair with all styles of wedding rings. A traditional plain band, of a width to compliment your trilogy and your finger length will always be a classic choice. Or add some extra sparkle with a diamond set eternity ring?
If your trilogy ring is not wed-fit because it has a large centre stone, or an elegant twist design, I would recommend commissioning a bespoke shaped to fit wedding ring.  
Our goldsmiths are experts at creating unique wedding rings that are shaped to fit around your engagement ring. From plain gold bands, to diamond set platinum eternity rings, we offer free design quotes. Our rings are handmade in our jewellery workshops in Brighton, Chichester and Eastbourne.
Choosing a Trilogy Design
Here's a quick check list to help you think about your design… But don't panic if you're not sure, our team at Gold Arts in Brighton, Chichester and Eastbourne have lots of trilogy rings you can view and try on to get a feel for different designs.
Metal?
Diamonds or coloured gemstones?
Cut (shape) of the gemstones?
Equal size gems or a larger central stone?
Budget (as this will help our team make modifications to stay within your limit)
If you have seen a design you like already, we can order or remake it in different metals or with different gemstone combinations. Our workshops can hand-make a unique ring for you, with you deciding on every aspect – we will even order in a selection of gemstones for you to choose from!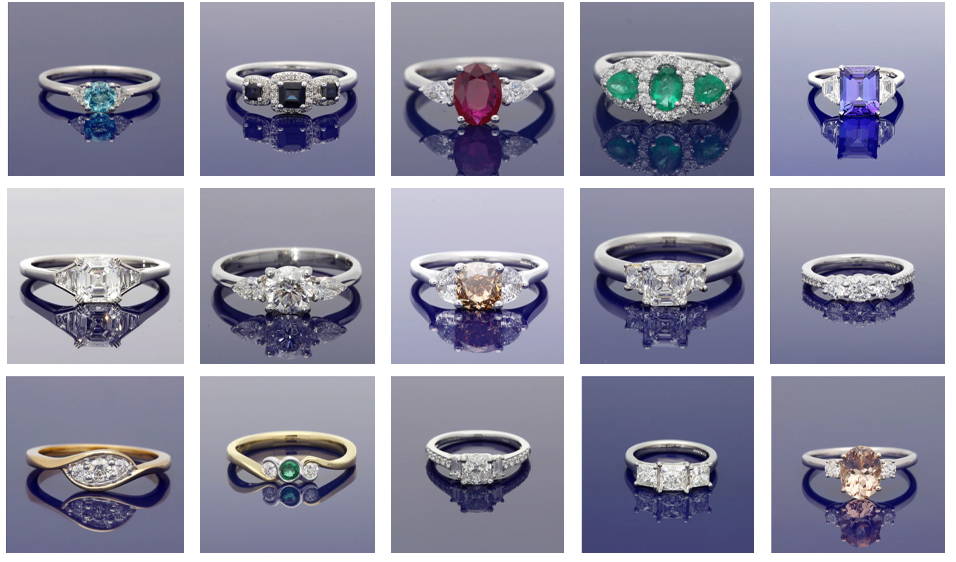 Quick Guide to Fancy Cut Diamonds

In this blog we answer a few questions about Fancy Cut diamonds, which are fast becoming a must on engagement ring wish lists.  
I also chatted to our designer-maker Kerry about the design process of making a ring with fancy cut diamonds in her new Tanzanite and Cadillac Diamond Trilogy ring.
---